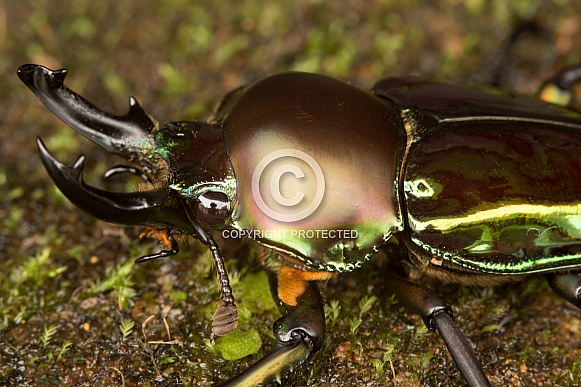 Email
Title:

Rainbow stag beetle.

Views:

196

Added:

Sept 15, 2016

Colors:

Filesize:

6.28MB

Pixels:

4200x2800

Description:

A medium sized male Rainbow stag beetle (Phalacrognathus muelleri). Phalacrognathus muelleri is well known for its beautiful iridescent rainbow coloring. An absolutely stunning beetle. The Rainbow stag beetles is confined to the rainforests of Queensland Australia. Males can vary in length from 24 mm to 70mm. Females are generally much smaller.

Owner:

Sonia Mckinlay

Copyright:

Sonia Mckinlay @ Wildlife Reference Photos.
Similar Media
IPTC
EXIF
Share
Description

:

A medium sized male Rainbow stag beetle (Phalacrognathus muelleri). Phalacrognathus muelleri is well known for its beautiful iridescent rainbow colouring. An absolutely stunning beetle. The Rainbow stag beetles is confined to the rainforests of coastal north-eastern Queensland Australia. Males can vary in length from 24 mm to 70mm. Females are generally much smaller.

Date Created

:

2016-08-29 00:00:00

:

Description Writer

:

Sonia Mckinlay

Copyright Notice

:

This image may be used as reference for artwork. This image can not be used for any other purpose. Contact me for licensing purp
Filename

:

IMG_0285_RC.jpg

File Date/Time

:

1473974838

File Size

:

6586151

File Type

:

2

Mime Type

:

image/jpeg

Sections Found

:

ANY_TAG, IFD0, THUMBNAIL, EXIF

Image Description

:

A medium sized male Rainbow stag beetle (Phalacrognathus muelleri). Phalacrognathus muelleri is well known for its beautiful iridescent rainbow colouring. An absolutely stunning beetle. The Rainbow stag beetles is confined to the rainforests of coastal

Make

:

Canon

Model

:

Canon EOS 6D

Orientation

:

1

XResolution

:

3000000/10000

YResolution

:

3000000/10000

Resolution Unit

:

2

Software

:

Adobe Photoshop CS6 (Windows)

Date/Time

:

2016:09:10 21:02:45

Exif IFD Pointer

:

832

Exposure Time

:

3/10

FNumber

:

13/1

Exposure Program

:

1

ISO Speed Ratings

:

400

Exif Version

:

0230

Date/Time Original

:

2016:08:29 10:53:58

Date/Time Digitized

:

2016:08:29 10:53:58

Shutter Speed Value

:

1736966/1000000

Aperture Value

:

7400879/1000000

Metering Mode

:

5

Flash

:

16

Focal Length

:

100/1

Color Space

:

65535

Exif Image Width

:

4200

Exif Image Length

:

2800

Exposure Mode

:

1

White Balance

:

1